IDC: India's smartphone market to double by 2018
Author:Andrew
Release on :2014-09-25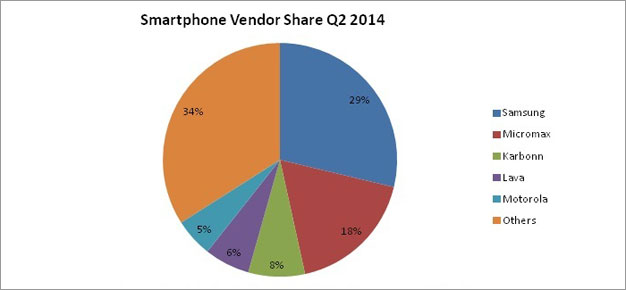 With the US and Europe mostly saturated, and China well on its way to being so, many smartphone makers are looking at India as the next big market. IDC's recent report on the market makes it clear that there is ample opportunity in India, especially for makers of lower-priced smartphones.
At present, smartphone penetration rate is only around 29 percent, though the segment is growing quickly. In Q2 2014, vendors shipped 18.4 million smartphones, an 83 percent increase over Q2 2013. In addition, sub-US$200 smartphones accounted for 81 percent of all smartphone shipped.
Notably, while Samsung held the lead in Q2 - contrary to reports from other analysts – the largest overall category was "Others", with 34 percent of the market. This indicates that there is a significant opportunity for smaller or white-box vendors in the market.
At present, most networks outside of a few major metro areas use 3G networks at best, with 2G data being dominant throughout the country. This fits well with the price points attractive to Indian consumers. Overall, IDC expects the smartphone market to become the majority of the market by 2018.
That said, Bharti Airtel, India's largest cellphone company by subscribers, has launched 4G LTE service in Bangalore and Kolkata, and is expected to launch soon in other cities. In addition, Reliance Industries Chairman Mukesh Ambani has previously laid out an extremely ambitious plan to roll out 4G network in more than 700 cities in India in the next few years, and has already spent more than US$3 billion for spectrum purchases alone.