Android's smartphone market share climbs to 85%
Author:Andrew
Release on:2014-09-29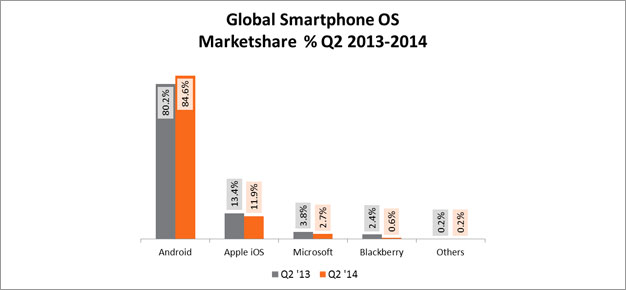 According to Strategy Analytics, Android smartphones hold 85 percent of the global market by the number of units shipped in Q2 2014, accounting for nearly 250 million units. This represents a 5 percent gain in share since Q2 2013, and is broadly similar to competitor IDC's projections.
Apple's iOS, despite selling 4 million more units in Q2 2014 than in the same quarter of 2013, lost 1.5 percent market share. Meanwhile, Windows Phone and BlackBerry market share fell by 1.1 percent and 1.8 percent, respectively. BlackBerry now holds 0.6 percent of the global smartphone market sales.
While this does not include the installed base of smartphones, Android has been on the rise since its inception, with its only serious competitor being Apple's iOS.