Wireless power market expected to grow 4,000% in the next 10 years
Author:Abby
Release on:2015-05-08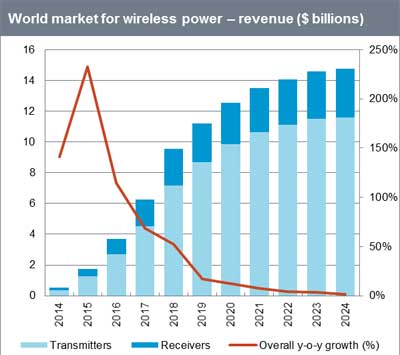 Wireless charging transmitters and receivers are expected to grow substantially over the next few years

According to new report from IHS, global sales for wireless power receivers and transmitters are expected to grow significantly in 2015 and in the next few years. In 2014, the company estimates that the industry shipped 55 million receiver units, which are mostly built-in to smartphones, tablets and other electronics. It also expects that more than 120 million units will be shipped in 2015.
Transmitters are another story altogether. In terms of revenue, transmitter sales growth is expected to increase by more than 50 percent every year until 2018, when market saturation will come into play. Overall, IHS expects that total wireless power receiver shipments will grow by 4,000 percent through 2024 to more than 2 billion units.
While most phones still do not have native support for wireless charging, Samsung's announcement that it would support Qi and PMA standards for the Galaxy S6 and S6 Edge was taken by IHS as a sign that more companies will follow suit. In addition, consolidation in the industry standards may help to make it easier for both buyers and consumers to adopt the technology.
If accurate, this prediction will prove that 2015 is a good time to get into the wireless power business. While companies, such as Apple, are likely to adopt proprietary standards, more are likely to follow Samsung's path and make the technology easier to access. Inexpensive power mats and other charging form factors are likely to become more widespread, as well as integration with cars, tables, desks, and other "platforms".