Apple's spectacular Quader2 boosted by iPhone sales
Author:Abby
Release on:2015-05-09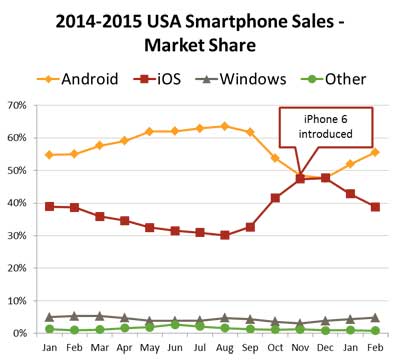 According to Kantar Worldpanel, Apple briefly held a majority of all smartphone sales in December 2014. While that share has declined, sales of the iPhone 6 and 6 Plus continue to beat the overall market.
Apple released its earnings for Q2 and the success of the iPhone 6 and 6 Plus continues to drive revenue and earnings. Overall, Apple's revenue climbed 27 percent compared with Q2 2014 and earnings were up 33 percent. iPhones contributed the most to the growth in top and bottom lines, with 61.2 million units shipped during the quarter, 40 percent more than the 43.7 million shipped in the same quarter last year.
On the other hand, sales of the iPad tablet line decreased to 12.6 million units, down just under 4 million from last year. Nevertheless, the decline in tablet sales is part of a larger, market-wide pattern of slowing tablet sales in favor of long-term ownership and phablets cannibalizing sales.
Overall, the last quarter is an indicator that the accessory ecosystem for Apple iPhones, which includes cases, screen protectors and Bluetooth accessories, remains robust and can be expected to remain so in the near future. This is especially important for importers from the US and Japan, which remain the top markets for the iPhone by market penetration. While Android remains the top OS in the US, 42.8 percent of all sales in this market were iOS devices, according to Kantar Worldpanel. In the Japanese market, most devices sold were iOS-based.