Accessory producer gets a way to make better bands for the Apple Watch
Author:Abby
Release on :2015-05-19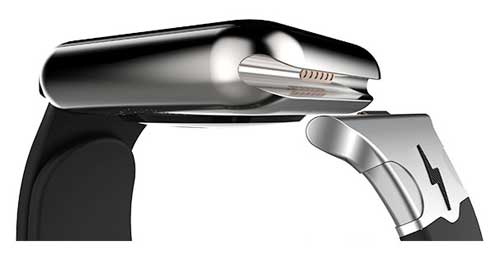 Reserve Strap's illustration of how its powered watch band would interface with the now-uncovered port
Apple has long been notorious for locking down its hardware and software in order to maximize its control over its devices. In the case of the Apple Watch, it first appeared as though interfacing with the device would require a Bluetooth transmitter to communicate or a magnetic inductor to power it. However, some accessory makers may be able to use a hidden 6-pin diagnostic port to power the device.
Reserve Strap, an accessory maker from the US, has demonstrated a method of using that hidden port to directly power the device. While the port is apparently used as a way to perform diagnostics or to load software onto the Watch in the factory, it can also be used to power the device—and this is where the accessory maker has found a use for the port. While a magnetic inducting power module can be installed in an accessory band, it would make the watch bulkier. By using the hidden port, a watch strap can be used without adding bulk.
On the one hand, this appears to be great news for accessory makers wanting to get in on the Apple Watch bonanza as accessories would be more integral to the Watch. On the other hand, makers and buyers will have to be careful when making accessories that use the port. Apple has a history of disabling interfaces and software that run afoul of perceived or real interference with how its devices work. Nevertheless, it will be tempting for other accessory makers to use the newly uncovered port in order to make more aesthetically pleasing powered watch bands and other accessories.