Phablet market share shots up more than triple in Q1 2015
Author:Abby
Release on :2015-06-03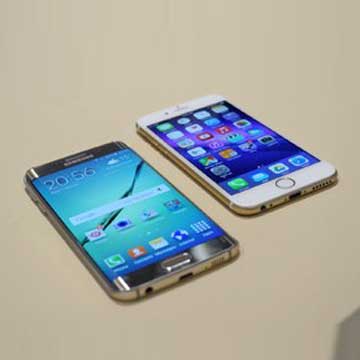 Apple's iPhone 6 Plus and Samsung's Galaxy S6 Edge are two reasons why phablets are becoming more popular in the US
Phablets have long been the leading growth category in smartphones in Asia, but the US market has strangely been a laggard in this regard. According to market data firm Kantar Worldpanel ComTech, however, the US appears to be catching up with the rest of the world.
In the first quarter of 2015, phablets – smartphones with a screen size of at least 5.5 inches in diameter – accounted for 21 percent of all sales, jumping from 6 percent in Q1 2014. Apple iPhone 6 Plus accounted for 44 percent of all phablet sales. While it was inevitable for the iPhone 6 Plus to dominate the segment, this also meant that 11.8 percent of all smartphone sales were non-Apple phablets. This alone almost doubled the market share for the large-screen smartphones from the previous year.
According to data from market research firm GfK, the global share for large-screen phones with screen sizes greater than 5 inches increased to 47 percent in Q1 2015, up from 32 percent in Q1 2014. The firm expects that demand for devices 5 inches and above will increase by 30 percent YoY and account for 69 percent of all smartphone sales in 2015.