Wearable newcomer Xiaomi becomes second-largest wearable vendor
Author:Abby
Release on:2015-06-10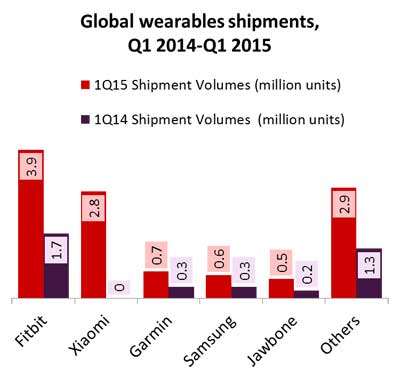 Xiaomi's low-cost, low-capability fitness tracker seems to have been a success
According to research firm IDC, the Q1 2015 wearables market was triple the size it was in Q1 2014 in terms of the number of units shipped. The manufacturers shipped about 11.4 million units in Q1 2015, up from 3.8 million in Q1 2014. Market leader Fitbit shipped 3.9 million units during the quarter, more than double its shipments in Q1 2014.
Overall, Xiaomi zoomed seemingly out of nowhere to take second place on the strength of its $15 Mi Band. According to IDC, four of the top five wearable brands primarily or exclusively sold fitness trackers, with the lone exception of Samsung, which shipped about 600,000 units in Q1 2015.
Notably, while Xiaomi shipped 2.8 million units in Q1 2015, other manufacturers not in the top five shipped 2.9 million units, a growth of 34.2 percent YoY. This indicates that there is a great deal of opportunity for inexpensive new brands or unbranded products such as basic fitness trackers and notification devices. Following a low-cost, "just good enough" strategy could be a winner in many markets, if Xiaomi is anything to go by.