Wearable and home devices are likely to lead IT growth
Author:Abby
Release on:2015-06-23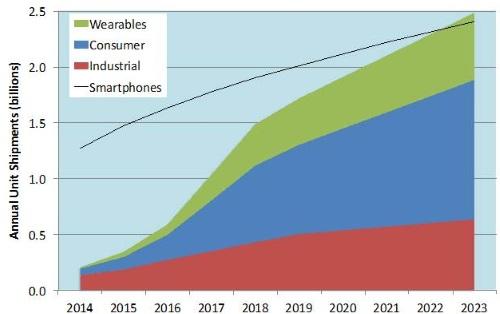 Industrial IoT is already at peak growth, but consumer IoT and wearable markets won't shift into high gear for a couple years
Wearables and home devices are likely to lead growth in the Internet of Things or IoT business during the rest of this decade, according to semiconductor companies and industry analysts at the recently concluded Computex Taipei show.
This year, 72 million wearable devices worth $17 billion will ship, growing in dollar terms at a CAGR of 18 percent to 156 million units or $39 billion in 2019, according to Bryan Ma, a vice president with market research firm IDC. But exactly what device is likely to be the wearable of choice?
"If I were a betting man, it would be watches," said James Bruce, director of mobile solutions for ARM, whose chip designs are in 90 percent of the world's smartphones. "Wrist-based products are definitely going to be one of the leading categories. We're at the start of that growth."
Overall, the worldwide IoT market will grow from $655.8 billion in 2014 to $1.7 trillion in 2020 for a CAGR of 16.9 percent, IDC said in a June 2 report. That growth forecast appears less optimistic than a prediction this month by market watcher Linley Gwennap for a CAGR of 45.5 percent in IoT unit shipments between now and 2020. Gwennap said 1.9 billion IoT devices will ship in 2020, up from about 200 million this year.