Google partners to create smart clothing with Levi's
Author:Abby
Release on:2015-06-25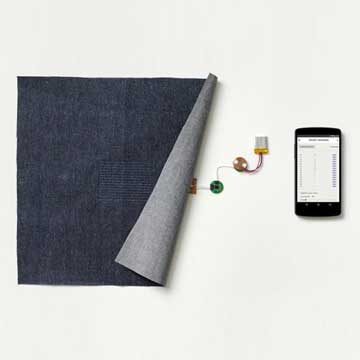 Google announced at its annual developer conference that it has developed a woven microfiber fabric with digital sensing capability that allows it to interact with devices. The tech company is partnering with Levi's to showcase Project Jacquard, although there is no timeline yet as to when the smart clothes would be commercially available.
Google's Advanced Technologies and Projects (ATAP) came out with the concept and is working with textile manufacturers in Japan to create the smart fabric. Project Jacquard yarn is made of metallic alloys combined with ordinary materials such as cotton or polyester. It is strong and enables sensor grids to be woven through the fabric.
According to the iconic denim brand, Jacquard allows users to interact with their devices without giving them full attention. Answering a call can be done by swiping the thigh of your pants, with no need to take out your phone during a dinner. The companies decided to start with denim fabric because it can weather the harsh industrial weaving process, which involves burning, hot pressing, and pulling.
It is estimated that the clothing industry makes 19 billion pieces annually, while 128 million smartphones were produced last year. Research firm Gartner projects that smart garments are expected to comprise 26 million out of 91 million units shipped for wearables, in contrast to 19 million for wristbands