Wireless charging is expected to grow significantly
Author:Abby
Release on :2015-07-02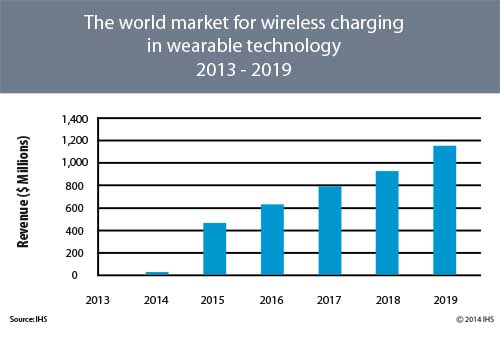 Wireless charging accessories are expected to grow significantly this year and over the next 5 years (Source: IHS)
Consumers are becoming more aware of wireless charging technology, thanks in large part to its inclusion in recent high-profile products such as the Samsung Galaxy S6 and the Apple Watch.
According to a recent survey conducted by market research firm IHS, 76 percent of consumers in the US, China and the UK are now aware of wireless charging technology - more than double the percentage of consumers who indicated they were aware of the technology a year ago.
David Green, research manager for power supplies and wireless power at IHS, said the firm conducted the same survey of 1,002 people - 334 each in the US, the UK and China - last year. At that time, the survey revealed that only 36 percent of respondents had wireless charging technology on their radar.
According to IHS estimates, shipments of wireless power receivers in mobile handsets alone are forecasted to top 120 million units in 2015. A large chunk of those receivers are expected to ship in Samsung's Galaxy S6 and Galaxy S6 Edge smartphones.
In wearable electronics, some 20 million wireless charging receivers are expected to ship this year. More than 14 million of expected shipments are seen to come from the Apple Watch alone.