Business smartphone market Grow 22 percent YoY
Author:Abby
Release on:2015-07-06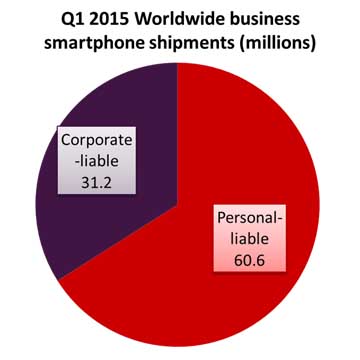 Most purchases of smartphones for business are made by the employees ("personal-liable") rather than by the company ("corporate-liable"). Source: Strategy Analytics
According to research from Strategy Analytics, the global market for business smartphones grew to 91.8 million units in Q1 2015, a growth rate of 22.6 percent YoY. This represents 27 percent of the global smartphone market, a 1 percent increase from Q1 2014.
The analysis also broke out purchases by who made them – the employee who gets reimbursed ("personal-liable") or the company itself ("corporate-liable"). Globally, most purchases were done by the employees, constituting about 66 percent of the said market. However, this was very varied geographically. For example, in Western and Central Europe, companies were far more likely to be the actual purchaser, with 61 percent or 10 million smartphones being purchased by the company. In North America, on the other hand, three-fourths of all business smartphone purchases were made by the employee.
There was a significant difference in the types of devices purchased by the employee or the company as well. When the employee is the one making the decision, 68 percent purchased an Android device versus 27 percent purchasing an iOS device. If the company is the decision-maker, they are more likely to purchase an Apple device with 48 percent of all company-purchased phones being iOS devices. The analyst firm said that Apple devices, which are simpler to support thanks to a single-OS solution, are perceived by companies as "safer" than Android devices.