5G is getting ready to go out of the lab
Author:Abby
Release on :2015-07-10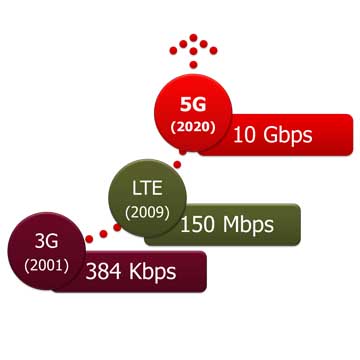 5G is expected to be as much as 100 times faster than LTE,
and now it appears as though real standards work is being done.
5G, the next big thing in cellular, is getting ready to move out of the lab. Commercial services are not expected until 2020, but demos, trials and work on specifications all start within the next few months.
The 3GPPP that defines 3G and LTE standards will start work on a 5G standard in December, initially modelling channel performance for frequencies above 6GHz. Many companies already have ideas for key pieces of a spec, such as a new air interface standard. A final standard is expected sometime in 2018 while field trials will start as early as 2016. They will gradually build up to the 2018 Olympics in Korea, which is expected to be the first full blown public demo of a pre-standard version of 5G networks.
"We see 2015 as the transition from research to standardization," said Peter Merz, head of radio systems research at Nokia Networks, which has formed its own concept of a good 5G air interface.