Chronos using magnetic disc to make watch smart
Author:Abby
Release on:2015-11-12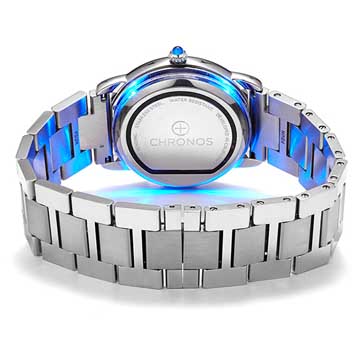 The Chronos disc is a subtle smart watch solution, but it does add a little bulk
to the back of a watch
Smart watches have their enthusiasts, as can be seen from the successful crowdfunding campaign of multiple Pebble watches and the estimated 7 million Apple Watches out in the wild. Even so, smart watch adoption has been slower than many would like as consumers are waiting for something with longer battery life, robust functionality and beauty. Chronos seeks to alleviate this pain point for some consumers by converting their current dumb watch into a smart watch using a magnetic disc that sticks to the back.
The Chronos acts more like a smart band than a fully functional smart watch. It is capable of fitness tracking and vibration for notifications, and includes multicolored LED lights around the edge to give users visual cues about their notifications. Users can select what colors correlate with which apps using the Chronos iOS app so they do not have to guess what the notification is for. An Android app is expected by the time the device launches next year. A simple push down on the watch will dismiss the notification. It has all the necessities of a smart watch, but users who want a touch interface or want to be able to give voice commands to their watch will find the device lacking.
Chronos is ideal for those who do not want to leave behind their most stylish traditional watch but would also appreciate the functions of a smart band. Fitness tracking is an especially growing market with many dedicated devices, even ones like Jawbone that do not include a screen, available for just this task. The device does add a little bulk under the watch, according to early reviews, but it apparently fits well on larger watches and those withleather straps. There will no doubt be many manufacturers attempting to emulate this kind of function for less than the $99 that Chronos is charging. Xiaomi appears to think it can offer a quality fitness tracker for about $16. The key for Chronos and successful competitors, though,will likely be subtle and elegant hardware combined with smart and feature-rich software.