2-in-1 tablets become Amazon tops media tablets by triple-digit growth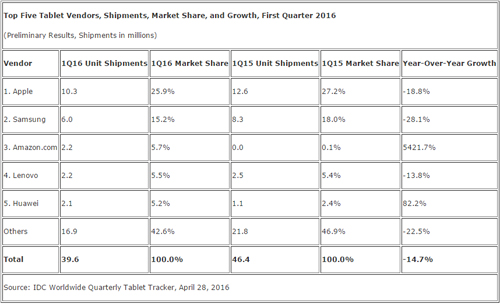 Apple still has the most market share in tablets, but the company saw shipments decline by nearly a fifth
while Amazon surged by selling inexpensive slates for media consumption (Source: IDC)
The latest numbers from IDC on tablet shipments from the first quarter of 2016 vindicate sellers focusing on two-in-one hybrid devices. IDC refers to this segment as detachables, whose shipments rose to 4.9 million units, registering triple-digit growth from the previous year.
Still, detachables only made up 12.4 percent of the market, with slates taking up the other 87.6 percent of shipments. It is increasingly hard to turn a profit on the more traditional tablets made for media consumption. That is why companies are relying on other business models to make up for the slim hardware margins.
This is the case with Amazon, which is arguably doing the best by selling slate tablets. It now offers a $50 Fire Tablet that can be bought in six packs for the price of five. Apple still dominates in terms of market share, but Amazon has crept into third place behind Samsung with its strategy of flooding the market with inexpensive tablets. The Fire runs a custom version of Android meant to incentivize using Amazon's content services such as Prime video and Kindle e-books.
Fortunately for hardware makers, detachables are seeing a lot of growth. Some companies are betting on them, taking a big chunk out of the traditional laptop market in the long run.This is what Microsoft has been focusing on with the Surface line of hardware, but the tech group has not cracked the top five tablet companies. Instead, China makers Lenovo and Huawei take fourth and fifth. Both companies have their own products that are meant to compete with Surface tablets and other hybrids, but they are typically sold at lower prices. Huawei's MateBook tablet was not even available that quarter, and it has since received quite a bit of positive press coverage.
The tablet market is still a tough one, though. Overall growth in the detachables sector was not able to lift the market, which fell nearly 15 percent. Among the top five companies, only Amazon and Huawei saw positive growth, with Amazon shipments growing an astronomical 5,421.7 percent. That is the power of a known brand selling a $50 tablet. China manufacturers will likely stick to more traditional means of growth.